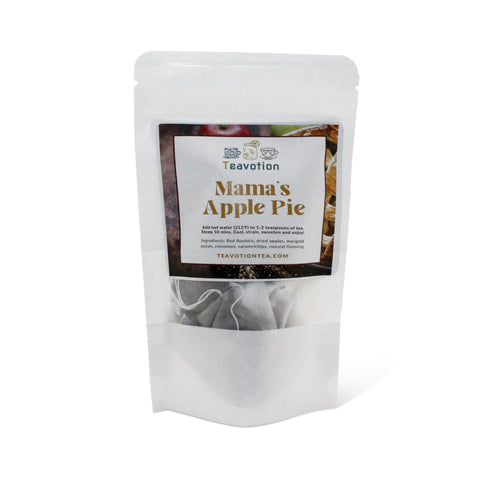 TeavotionTea
Mamas Apple Pie
Mama's Apple Pie Herbal Tea is a deliciously sweet and spicy blend that is sure to please even the most discerning of palates. The sweetness of dried apples and caramel chips combine well with the warmth of cinnamon, while marigold petals and Roobois add a floral note that complements this herbal infusion perfectly. It's like biting into a slice of your mother's apple pie, but without the calories!

Benefits:
Its antioxidant-rich blend of ingredients may help boost the immune system, support healthy digestion, and reduce pain and aches.
This rich, full-bodied herbal blend tastes like apple pie—with notes of cinnamon and caramel to satisfy that dessert craving.

For a drink that recalls the comforts of your childhood, try this herbal tea hot or over ice.

Ingredients: Red Roobois, Dried Apples, Marigold Petals, Cinnamon, Caramel Chips, Natural Flavoring

Steeping Instructions: Add hot water (212'F) to 1-2 teaspoons of tea. Steep 10 mins. Cool, strain, sweeten and enjoy!

*Double steeping instructions for iced tea and remember to sweeten while warm.

**All our teas are made with wellness in mind. If you take prescription medicine, currently pregnant, or a nursing mother please consult your healthcare practitioner.