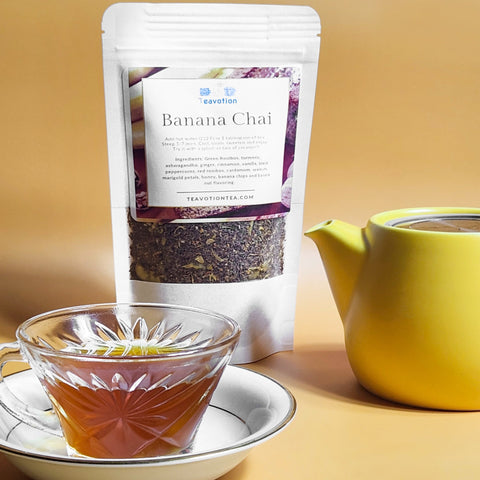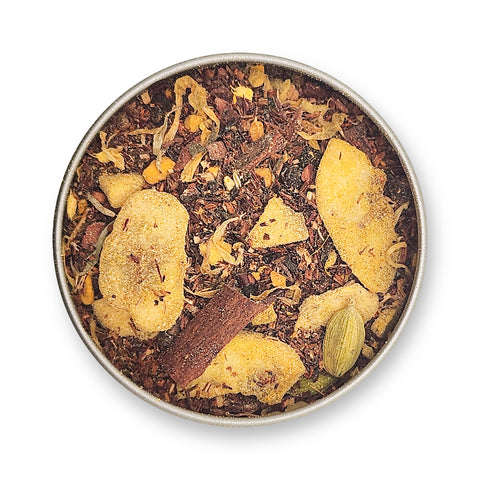 Teavotion Tea
Banana Chai
Take your tea game up a notch with our Banana Chai - a taste explosion that'll send your senses straight to flavor heaven. Imagine the spicy kick of Chai combined with the smooth sweetness of ripe bananas, resulting in a perfect pairing that smoothly glides across your tongue. It's like a warm, spicy hug balanced with the creamy satisfaction of banana delight.
Benefits:
Turmeric, ashwagandha, and ginger combine their anti-inflammatory superpowers to help reduce inflammation, making this tea a source of relief for joint pain and discomfort.
With ingredients like cinnamon and cardamom, this caffeine-free blend may assist in maintaining healthy blood sugar levels, promoting overall well-being.
Brew a cup of our Banana Chai, and let the fragrant aroma of banana and spices envelop you.
Ingredients: Green Rooibos, Turmeric, Ashwagandha, Ginger, Cinnamon, Vanilla, Black Peppercorns, Red Rooibos, Cardamom, Walnuts, Marigold Petals, Honey, Banana Chips And Banana, Nut Flavoring