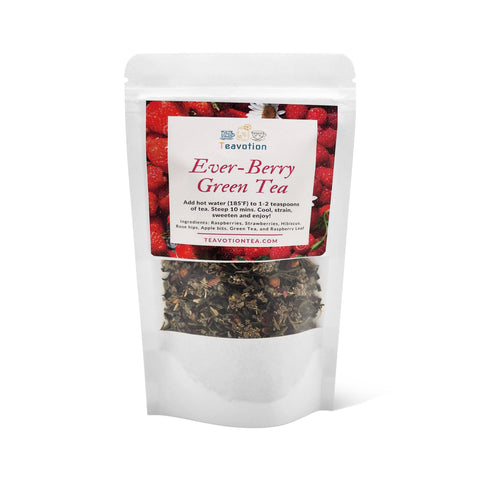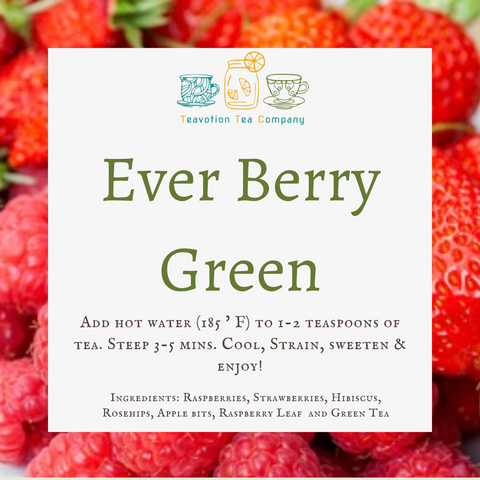 TeavotionTea
Ever-Berry Green Tea
For a delicious day and a healthy tomorrow, try Ever-Berry Green Tea! This proprietary blend is composed of fresh fruit, green tea, and raspberry leaf—all packed with nutrients, vitamins, and antioxidants to keep your body moving forward. Its fruity, berry-like flavor makes it a great beverage to enjoy anytime, anywhere: whether you need a pick-me-up in the morning or a soothing treat after dinner, Ever-Berry Green Tea's has got your back.
Benefits:
Helps improve energy levels and promote relaxation without the side effects of caffeine.
Made from all-natural ingredients without any artificial flavors or sweeteners.
Full of nutrients, vitamins and antioxidants that can protect your health.
Try serving this blend hot or over ice for a drink that is sure to please.
Ingredients: Ingredients: Raspberries, Strawberries, Hibiscus, Rose hips, Apple bits, Green Tea, and Raspberry Leaf
Steeping Instructions: Simply heat fresh, filtered water to a rolling boil. Then pour 8 oz. of water over 1-2 teaspoons of tea. Steep for 10 minutes. Cool, Strain, sweeten & enjoy!
*Double steeping instructions for iced tea and remember to sweeten while warm.
**All our teas are made with wellness in mind. If you take prescription medicine, currently pregnant, or a nursing mother please consult your healthcare practitioner. 
This statement has not been evaluated by the Food and Drug Administration. This product is not intended to diagnose, treat, cure, or prevent any disease.