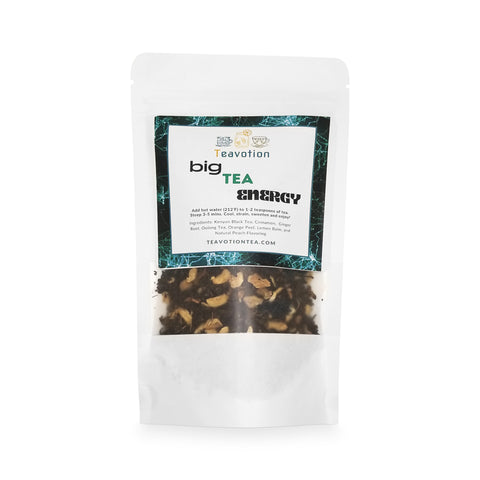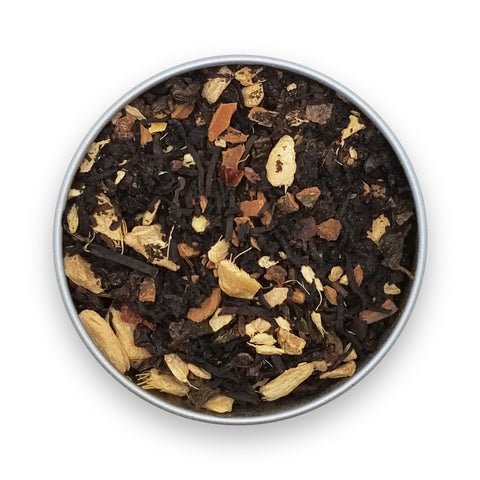 Teavotion Tea
Big Tea Energy
Big Tea Energy is here to replace those energy drinks once and for all! Ditch the jitters and sugar highs and lows of coffee and soda in favor of a healthier, longer-lasting alternative. If you're looking for a natural pick-me-up that will last you the whole day, go no farther than Big Tea Energy, a premium blend designed for just that purpose.

In addition to providing a healthy dose of caffeine, it also includes the rare amino acid theanine. This delicate blend gives you a moderate jolt of energy without the jitters that come with consuming large amounts of caffeine. Theanine helps you unwind and chill out, which means less stress and a more balanced approach to getting things done.

Ingredients: Kenyan Black Tea, Cinnamon, Ginger Root, Ooolong Tea, Orange Peel, Lemon Balm, and Natural Peach Flavoring

Steeping Instructions: Add hot water (212'F) to 1-2 teaspoons of tea. Steep 3-5 min. Cool, strain, sweeten, and enjoy!

Switch to Big Tea Energy and see how this special blend can change your life. Adopt a more nutritious way of living and reap the rewards of a steady flow of natural energy. Big Tea Energy is the best option for a revitalized and well-rounded lifestyle, and you can tell the difference in how you feel after just one cup.

**All our teas are made with wellness in mind. If you take prescription medicine, currently pregnant, or a nursing mother please consult your healthcare practitioner.

This statement has not been evaluated by the Food and Drug Administration. This product is not intended to diagnose, treat, cure, or prevent any disease.